The remarkable T2x is the fifth generation of RTI's renowned T2 remote control platform. A full complement of hard buttons provides quick, intuitive control, while the 2.8" touchscreen interface can be custom-tailored for full control of devices throughout the environment. Innovations include grip sensors to keep the remote awake during use, an accelerometer for instant-on control**, a flush-mount touchscreen allows improved gesture control, WiFi and more. The combination of the T2x and an RTI control system provides the power, the customization, and the advanced features needed to make controlling today's connected electronics a true pleasure.
*Feedback requires a compatible two-way RTI control processor.
*Integration Designer software only available to authorized RTI dealers.
Included in the box:
T2x, docking station, power supply (5V, 2A), interchangeable keycap kit (8 keycaps)
---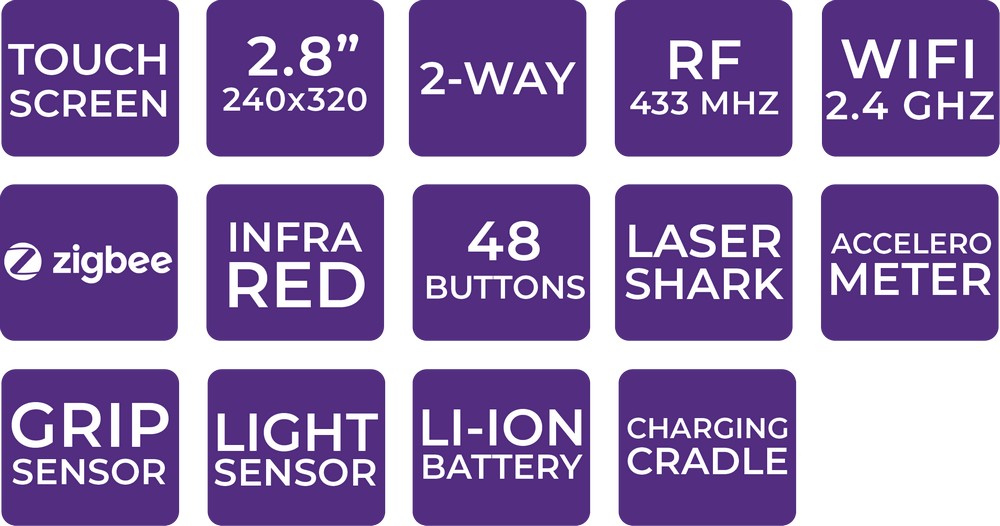 Touch Screen 
The customizable graphical user interface allows for intuitive touch screen control.
2-Way 
Get status feedback from controlled devices on your remote such as on/off or arm/disarm status, dimming value of lights, music playlists, available radio stations.
WiFi
Check the weather forecast, view video from network security cameras or perform remote programming updates through a standard 2.4 GHz WiFi 802.11b/g/n connection.
Zigbee
Standard wireless Zigbee IEEE802.15.4 connection for bidirectional control communication with RTI processors.
RF 433 MHz
Wireless unidirectional RF communication on the 433 MHz band for control communication with RTI processors.
Infrared
Control devices directly without a control processor.
Hard Buttons
48 Hard Buttons provide quick access to often used control functions such as lights, music, audio/video source selection without the need to navigate through the graphical interface on your touchpanel.
Laser Shark
Customize the button labels with text or graphics.
Accelerometer
Pick up your remote and the accelerometer automatically wakes the touchscreen.
Grip Sensor
The integrated grip sensors keep your remote awake while in use.
Ambient Light Sensor
Enjoy the perfect display brightness that's automatically set depending on the ambient light.
Lithium Ion Battery / Charging Cradle
Your remote can operate 5 to 7 days on average use. Charge it conveniently with the included charging cradle.
Dual RF transmission capability uses 433MHz and 2.4GHz (utilizing Zigbee® technology).
Integrated 802.11b/g wireless Ethernet.
Two-way control using 2.4GHz (Zigbee®) and RTI control components.
Flush mount, edge-to-edge touchscreen for improved gesture support.
Integrated grip sensors keep the remote awake while in use.
Accelerometer provides "instant-on" control.
Three wireless modes built-in (RF, Zigbee and WiFi).
Transmits IR and RF (or both - on a single button press!).
Extremely wide IR transmitting frequency range.
Greatly improved power management and battery charging.
Can be remotely updated wirelessly from offsite (future support).
Thinner, sleeker and more ergonomic.
Forty-seven assignable/programmable keypad buttons.
Cursor button allows simple scrolling list navigation.
System includes a Lithium-Ion battery and docking station.
Completely customizable and programmable.
Non-volatile Flash memory stores your system configuration even when power is not present.
Power
3.6 VDC, 1800 mAh Lithium-Ion Battery Pack
Power Management
Automatic On/Off (integrated accelerometer/grip sensors)
Infrared Control Range
30 feet (9.1 meters) @ 60 degrees
Infrared Frequency Transmission Range
15kHz - 460kHz
Radio Frequency Control Range
Up to 100 feet (30.5 meters) (with optional System Interfaces/Processors)
Radio Frequency Carrier
802.15.4 @ 2.4GHz (Zigbee® Wireless Networking) and 433MHz
Wireless Ethernet
802.11b/g @ 2.4Ghz
Operating Temperature
+32°F to +122°F (0°C to +50°C)
Operating Humidity
5% to 95% Non-condensing
Touchscreen Display
High-brightness color TFT LCD
1/4 VGA (240x320 pixels) with 64K colors
Integrated high-resolution touchscreen
Display Size
2.8 in (71mm) diagonal
Backlights
Blue/White LED (Keypad)
Nominal Run Time on Full Charge
4-6 hours, continuous use (WiFi° & backlight setting dependent) (5 to 7 days on average use)
Standby Time on Full Charge
30 Days
Battery Charge Time
3-4 Hours
Total System Memory
128M Bytes Flash (non-volatile) memory
Device Capability
Total number of devices is limited only by memory
Macro Capability
Unlimited steps in a single macro
Total number of macros is limited only by memory
Macro capability on every button
Communications
USB 2.0 programming port
Dimensions (L x W x D)
10.0" (254mm) x 2.3" (58mm) x 0.7" (20mm)
Enclosure
High-impact molded ABS plastic
Weight
8.8 oz. (250g) with battery pack
Warranty
Three Years (Parts & Labor) / One year on the battery
Prop 65 Warning
WARNING: This product can expose you to chemicals including 1,3-Butadiene, which is known to the State of California to cause cancer and birth defects or other reproductive harm. For more information go to www.P65Warnings.ca.gov
All specifications subject to change without notice
* Two-way feedback available only when used with RTI control components.
** Grip sensors and accelerometer cannot be used simultaneously.