The XP-8v is our most powerful system processor, able to control and automate the most advanced smart homes and smart offices. The processor leverages an extensive driver database to facilitate the integration of third-party devices, such as A/V, lighting, shades, security and HVAC in homes and office buildings. The third generation of the popular XP-8 control processor, the accelerated XP-8v kicks control into high gear with even more processing power, additional memory, and an HDMI output for an OSD (on-screen-display) interface. Increased performance combined with a real-time/multitasking operating system, tremendous expandability, and compatibility with any RTI controller or app, make the XP-8v the perfect solution for large-scale and complex projects.
Integration Designer software is only available to authorized RTI dealers.
Included in the box:
XP-8v, power supply (12V, 1A), RJ45 to DB9 serial adaptor (8), rack ears (2) with screws, feet (4) with screws, terminal blocks (3x 4-position, 3x 2-position)
---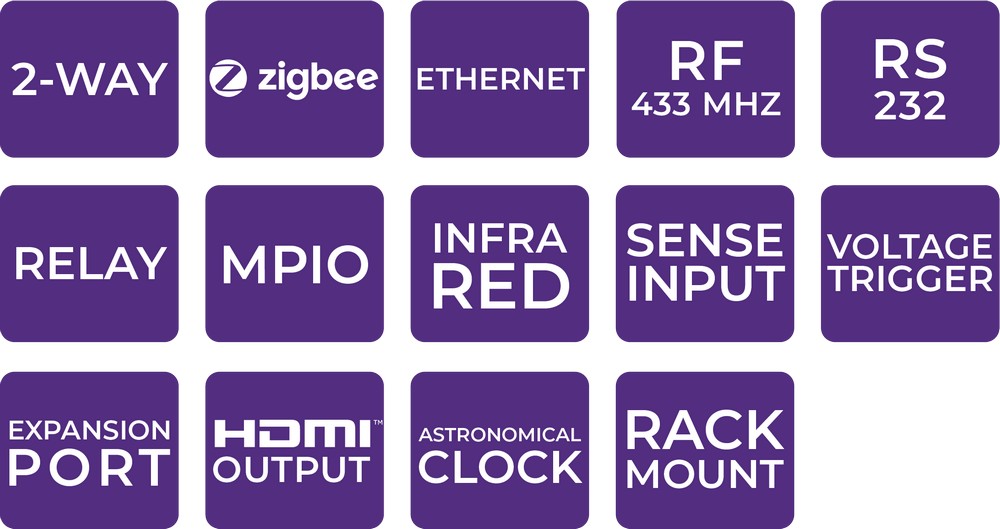 2-Way
Convenient and reliable control with status feedback from controlled devices such as on/off or arm/disarm status, dimming value of lights, playlists, available stations.
RS-232
Eight (8) control ports for 3-wire connection with the capability of polling status feedback from controlled devices or systems.
Relay
Eight (8) built-in low voltage dry contacts that provide contact closure or switching control for loads up to 3A/30VDC (external power supply required).
MPIO / Infrared
Eight (8) Multi-Purpose Input/Output control ports that allows for infrared control with infrared emitters, blasters and repeaters and connecting voltage sensors or RS-232 communication modules.
Sense Input / Voltage Trigger
Eight (8) programmable 100mA/2VDC outputs to control and high voltage external relay in amplifiers or other devices to turn them on or off when a sense input detects contact closure from switches, windows or doors or when the sense input reaches a voltage input threshold. Sense inputs can also be used to trigger a programmed control command or macro.
Expansion Port
Proprietary communication port that allows bidirectional control communication with RTI touchpanels and keypads.
Ethernet
Standard 10/100 BaseT network connection for bidirectional control communication with RTI remotes, touch panels and devices that are controlled over IP network.
Zigbee
Standard wireless Zigbee connection for bidirectional control communication with RTI remotes via ZM-24 Zigbee transceiver module.
RF 433 MHz
Wireless RF communication on the 433 MHz band for unidirectional control communication with RTI remotes.
HDMI Output
Connects to an HD display or matrix switch to allow an onscreen display (OSD) control interface.
Astronomical Clock
Built-in clock that syncs through an internet connection allows to schedule time-based events to automate all aspects of the installed environment, including climate, lighting, music, and much more.
Rack-Mount
Allows for mounting the unit into a standard 19" wide rack or placing on any surface using the included feet.
Powerful 1GHz i.MX CPU.
1GB of RAM memory and 512MB of non-volatile Flash memory.
HDMI output for OSD provides bidirectional control interface on a TV.
Eight two-way RS-232 ports.
Eight relays can be programmed as a contact closure or voltage trigger.
Eight multi-purpose I/O ports are compatible with industry standard IR emitters and optional RTI power sensing and communications modules.
Eight sense inputs can trigger events based on contact closure or voltage.
Astronomical clock allows time-based events.
SD/MM Card Slot for Memory Expansion.
Front panel controls/display (11 Buttons for front panel control).
All output ports incorporate both short-circuit and overload protection.
Variable IR output on all ports.
Programmed using the Integration Designer® Software.
Non-volatile Flash memory stores your system configuration even when power is not present.
Field upgradable firmware.
USB and Ethernet programming.
Input for connection of both 433MHz and 2.4GHz Zigbee® RF modules.
Rack mountable or free standing.
* Integration Designer software only available to authorized RTI dealers
Power
+12VDC, 1.0A
Multi-Purpose Output Ports
Eight custom 3.5mm 4-conductor jacks
Designed for RTI modules as well as industry-standard IR emitters
IR Output Drive
100mA maximum (per port, adjustable)
200mA maximum (high IR output port)
Infrared Frequency Range
15 KHz - 460 KHz
Infrared Input
Compatible with industry-standard repeaters and receivers
Video Output of OSD
HDMI 720p/1080p
Relays
Eight, 3 amps @ 30VDC or 12V/100mA Trigger
Sense Inputs
Eight, Digital/Closure
RS232 Ports
Eight RJ45 Connections
Ethernet Port
One 10/100Base-T, RJ45 Connection
USB Ports
Two Host, One Programming
RTI Com Port
Two-way Zigbee® Communication Port, RJ45 Connection
Expansion Port
RS-485/IR/PWR, RJ45 Connection
Memory Expansion
SD/MM Card Slot
Display
High-contrast STS LCD
Display Size(HxD)
.7 in x 2.8 in (18mm x 60mm)
32h x 122w pixels
Backlights
Blue LED (Display/Keypad)
Mounting
Rack-mount or free standing
Operating Temperature
+32°F to +122°F (0°C to +50°C)
Operating Humidity
5% to 95% Non-condensing
Dimensions (W x H x D)
17 in (432mm) x 1.7 in (43mm) x 6.4 in (162mm)
Weight
4 lbs (1814g)
Warranty
Three Years (Parts & Labor)
Prop 65 Warning
WARNING: This product can expose you to chemicals including 1,3-Butadiene, which is known to the State of California to cause cancer and birth defects or other reproductive harm. For more information go to www.P65Warnings.ca.gov