CX7 7 inch Countertop/Under-Cabinet Touchpanel
From the kitchen countertop to the conference room, the versatile CX7 is perfect wherever intuitive "always on" control is required. The 7" LCD touchpanel has adjustable tilt, allowing the display to be angled from straight up to nearly flat. The CX7 can be mounted inverted under a cabinet, ideal for kitchens. Additional features include wired and wireless Ethernet for two-way control, digital video (MJPEG), and web browsing. Analog audio/video inputs and stereo speakers allow video viewing sources, from security cameras to satellite TV. The integrated camera, microphone and speakers enable intercom support.
*Feedback requires a compatible two-way RTI control processor.
*Integration Designer software only available to authorized RTI dealers.
Included in the box:
CX7, power supply (12V, 2A), rotatable RTI logo (1), mounting bracket (1), ferrite clamp
---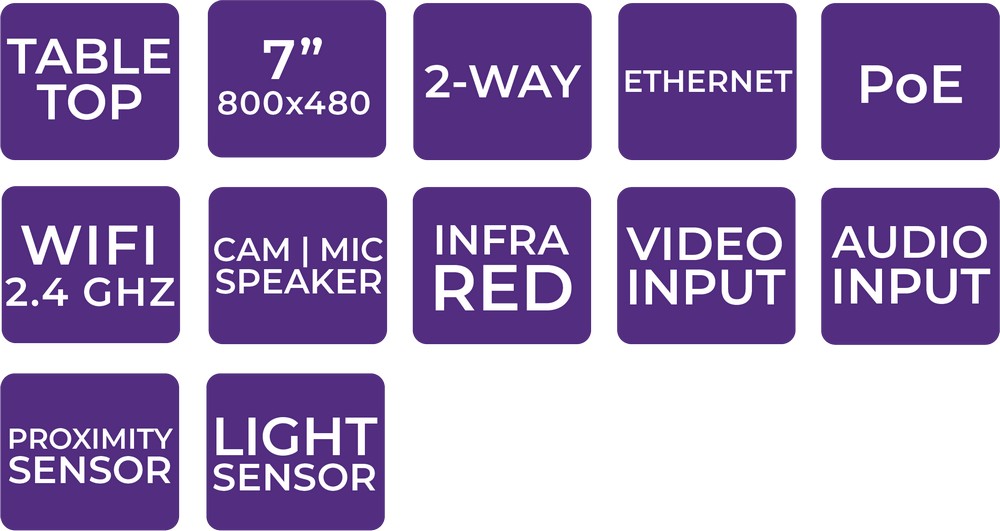 Tabletop 
The control center for your home or business can sit on a countertop, lectern or table. Tilt the screen to the ideal viewing angle.
2-Way 
Get status feedback from controlled devices on your touchpanel such as on/off or arm/disarm status, dimming value of lights, music playlists, available radio stations.
Ethernet / WiFi
Check the weather forecast, view video from network security cameras or perform remote programming updates through a standard 10/100 BaseT wired or 2.4 GHz WiFi 802.11b/g/n wireless network connection.
Camera / Microphone / Speakers
Answer the door via the built-in video intercom.
PoE
Power your touchpanel through a PoE network switch or PoE injector. No extra power supply required.
Infrared
Control infrared devices directly without a control processor by connecting IR emitters blasters or repeaters.
Audio / Video Input
Connect a video or music player and listen to your favorite music or watch your favorite TV show directly on your touchpanel.
Proximity Sensor
Wake the touchpanel by just approaching it. This is very convenient when you enter a dark room or your home at night.
Ambient Light Sensor
Enjoy the perfect display brightness that's automatically set depending on the ambient light.
800x480 WVGA LCD with integrated multi-touch capacitive touch screen
Composite, S-Video or Component video input at up to 480i, 576i, 480p or 576p
Analog audio input and stereo speakers
Integrated 10/100 Base-T and 802.11 Wireless Ethernet
Built-in camera, microphone and speakers enable video intercom capability
Built-in high output IR port for direct control.
Powered using power supply, CB8 or PoE (Power over Ethernet)
Optional modules/processors provide additional two-way control
USB and Ethernet Programming
Adjustable tilt display (from 10°-90°) or unit can be mounted under a cabinet.
Optional modules/processors provide additional control capabilities including two-way communication via RS-232/IP, sensing, IR and relay control.
Power
+9VDC to +16VDC, 1A max or PoE (Using Class 3 PoE
Ethernet router/injector)
Power Management
Adjustable backlight brightness/power down time
Touchscreen Display
High-brightness color TFT LCD
WVGA (800x480 pixels) with 65K colors
Integrated high-resolution capacitive touchscreen
Display Size
7.0 in (177mm) diagonal
Display Backlight
Dual CCFL, 300nit
Infrared Output Port
200mA output
Drives up to 1000 ft (300 m) of wire
Ethernet Port
10/100 Base-T with Power-over-Ethernet (Using Class 3 PoE
Ethernet router/injector)
Wireless Ethernet
802.11b/g
Operating Temperature
+32°F to +122°F (0°C to +50°C)
Operating Humidity
5% to 95% Non-condensing
Total System Memory
256M Bytes Flash (non-volatile) memory
Device Capability
Total number of devices is limited only by memory
Macro Capability
Unlimited steps in a single macro
Total number of macros is limited only by memory
Macro capability on every button
Communications
USB programming port
Video Input
3 BNC Connectors
Composite, S-Video or Component analog video inputs
NTSC/PAL/SECAM
Enclosure
High-impact molded ABS plastic
Mounting
Tabletop, or screws through mounting bracket (Included)
Dimensions (LxWxH)
7.5" (190mm) x 7.3" (185mm) x 6.25"(159mm)
Weight
2.0 lbs (907g)
Warranty
Three Years (Parts & Labor)
Prop 65 Warning
WARNING: This product can expose you to chemicals including 1,3-Butadiene, which is known to the State of California to cause cancer and birth defects or other reproductive harm. For more information go to www.P65Warnings.ca.gov