KX3 3.5 inch In-Wall Touchpanel Keypad w/ Control Processor
The KX3 is a unique, hybrid device that combines the capabilities of an in-wall touchpanel and an advanced control processor.* The result is an enhanced automation solution that delivers control simplicity and tremendous power in one cost-effective unit. Featuring a 3.5" high-resolution color touchscreen, two-way feedback and video capabilities, the KX3 performs beautifully in residential settings. The innovative touchpanel also shines in commercial applications such as classrooms and conference rooms where the built-in control processor and room status LED's offer additional flexibility. With a sleek, refined design and amazing feature set under the hood, users will never know how much power is at their fingertips.
*NOTE: KX3 control processor capability is now available with the latest software and firmware updates.
*Integration Designer software only available to authorized RTI dealers.
Included in the box:
KX3, bezel (white), RJ45 to DB9 serial adaptor (2), mounting wings (2), drywall template, screws (4)
---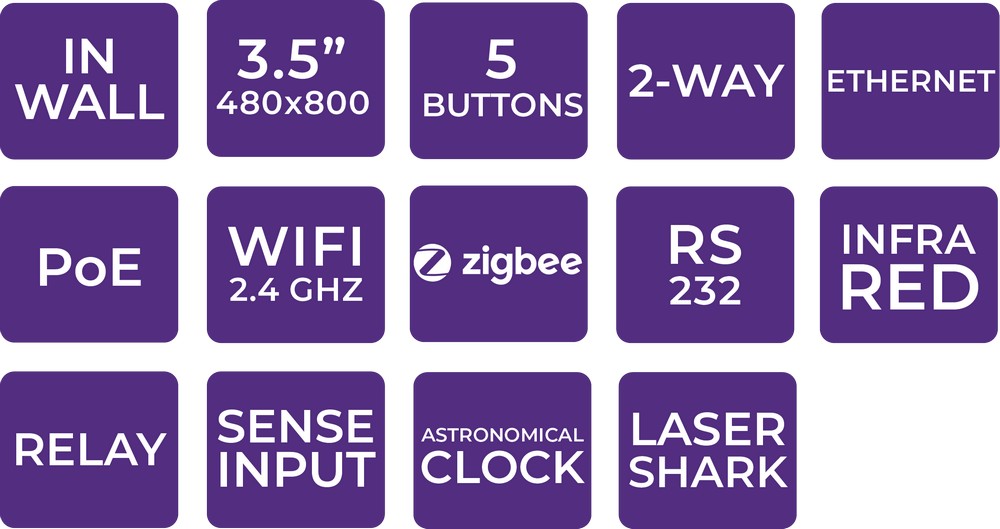 In-Wall 
Blend your flush-mount touchpanel into the wall and make it a central point for controlling your home or business.
Hard Buttons 
Five Hard Buttons provide quick access to often used control functions such as lights, music, audio/video source selection without the need to navigate through the graphical interface on your touchpanel.
2-Way 
Convenient and reliable control with status feedback from controlled devices such as on/off or arm/disarm status, dimming value of lights, playlists, available stations.
RS-232 
Two (2) control ports for 3-wire connection with the capability of polling status feedback from controlled devices or systems.
Relay
Four (4) built-in low voltage dry contacts that provide contact closure or switching control for loads up to 3A/30VDC (external power supply required).
Infrared
One (1) control port for 2-wire connection to infrared emitters, blasters and repeaters.
Sense Input
Six (6) inputs that sense contact closure from switches, windows or doors or voltage state from a voltage sensor to trigger a programmed control command or macro.
Ethernet / WiFi
Standard 10/100 BaseT wired and 2.4 GHz WiFi 802.11b/g/n wireless network connection for bidirectional control communication with RTI remotes, control accessories and devices that are controlled over IP network.
PoE
Power your touchpanel through a PoE network switch or PoE injector. No extra power supply required.
Zigbee
Standard wireless Zigbee connection for bidirectional control communication with RTI remotes.
Astronomical Clock
Built-in clock that syncs through an internet connection allows to schedule time-based events to automate all aspects of the installed environment, including climate, lighting, music, and much more.
Laser Shark
Customize the button labels with text or graphics.
Fully programmable 3.5" touchscreen display with WVGA resolution (480w x 800h) TFT LCD to display custom buttons, text and graphics.
Five hard buttons for convenient control. (Hard buttons may be custom engraved using Laser Shark service)
Built-in control processor provides advanced capabilities including direct control of devices via IR, IP and RS-232, six voltage sense ports with sense-event capabilities, four relays for control via contact closure and an astronomical clock for time-based events.
Integrated 10/100 Base-T (with PoE) and 802.11 wireless Ethernet for viewing video from network security cameras, enhanced two-way feedback and remote programming updates.
Built-in camera, microphone and speakers.
Proximity sensor automatically wakes the unit up when approached by the user and an ambient light sensor adjusts the brightness.
Integrated mounting wings for easy installation in retrofit installs. Backbox also available (sold separately)
Ships with stylish, low-profile white bezel. Bezels also available in black and brushed aluminum (sold separately).
Faceplate and buttons are black with a glossy finish.
Optional modules/processors for voltage sensing, relays and advanced two-way control.
USB and Ethernet programming.
* All Specifications subject to change without notice.
Weight8.9oz (252g)
Power
+9VDC to +16VDC, 1A max
Power Management
Adjustable backlight brightness, Ambient light sensor, Proximity sensor
Touchscreen Display
High-brightness color TFT LCD
WVGA (480x800 pixels) with 16.7M colors
Integrated high-resolution resistive touchscreen
Display Size
3.5 in (89mm) diagonal
Display Backlight
LED Backlit, 200nit
Infrared Output
Through control port, 200mA output
Drives up to 1000 ft (300 m) of wire
Serial Port
Two RJ-45, RS-232 communication
Ethernet Port
10/100 Base-T with Power-over-Ethernet
Wireless Ethernet
802.11b/g/n
Relays
Four, 3 Amps @ 30 VDC
Sense Inputs
Six, 3-24VDC
Radio Frequency Control Range
Up to 100 feet (30.5 meters)
Communication with optional wireless Interfaces
Radio Frequency Carrier
802.15.4 @ 2.4GHz (Zigbee® Wireless Networking)
Camera
Color CMOS VGA (640x480)
Microphone
Silicon MEMS
Speaker
One (1) 2 Watt, 8 Ohm
Flash Memory
128MB Bytes Flash (non-volatile) memory
RAM Memory
256MB
Device Capability
Total number of devices is limited only by memory
Macro Capability
Unlimited steps in a single macro
Total number of macros is limited only by memory
Macro capability on every button
Communications
USB programming port
Enclosure
High-impact molded ABS plastic
Mounting
Integrated mounting wings, or screws through front plate
Bezel Dims (W x H)
4.352in (110.5mm) x 5.876in (149.25mm)
Install. Cut-Out (W x H)
2.942in (74.7mm) x 5.192in (131.8mm)
Total Depth in Wall
1.265in (32.1mm), with mounting wings 1.624in(41.2mm)
NOTE: Additional room may be required depending on connections
Operating Temperature
+32°F to +122°F (0°C to +50°C)
Operating Humidity
5% to 95% Non-condensing
Warranty
Three Years (Parts & Labor)
Prop 65 Warning
WARNING: This product can expose you to chemicals including 1,3-Butadiene, which is known to the State of California to cause cancer and birth defects or other reproductive harm. For more information go to www.P65Warnings.ca.gov
* All Specifications subject to change without notice.